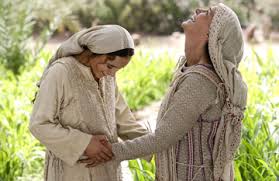 4th Sunday in Advent
December 20, 2015
Luke 1: 39 – 55  You can click on this link to open the text in Oremus Bible Browser.
"Mary Did You Know?" It's a beautiful song, and I've heard it done so beautifully that it's possible to let the message of it become how we think of Mary – sweet, innocent, and kind of clueless. But the Bible story we have this morning doesn't support that image of her at all. Just think a minute about her times and her life.
The Middle East of Mary's day was not very different from the Middle East of today. Sure, the Romans kept the peace, but it was not a very comfortable peace for anyone but the Romans. Roman soldiers had the right to take over your house, to extort 'protection' money from your business. They could collar you on the street and put you to work in their pet projects. The government kept a firm hand on everything and took a share of everything – trade, communication, religion, family life, all of it. No freedom to worship, no freedom to speak out in public, no freedom to a jury trial, no honest judges or tax collectors, no free education, no hospital or doctor care beyond what your own community provided. It's still that way in places like Yemen and Bangladesh, parts of Burma and India. And we are witnesses of the on-going conflicts that overturn the lives of ordinary people and make rubble of their homes and livelihoods, with scores of refugees moving from one political hot-spot to something calmer. It's hard for us to imagine, because we have never experienced anything like that. Our lives are cushy compared to that of much of the rest of the world.
So it's into this kind of world that the angel Gabriel announces that the long-expected Savior of God's own People Israel is about to arrive. In the 400 years between the end of the Hebrew Bible and the birth of Jesus, the religious literature is all about the end times – how long will we have to suffer? When will God come and free the faithful from this abuse? In this literature, the figure of the Messiah, the Savior became more and more focused on getting out from under the political oppression of the Roman Empire, but the longer tradition of the prophets sees a larger picture of the Messiah as restoring God's reign on earth, and the justice that will lift up the hard workers above the greedy bosses and the deprived finally getting the dignity and freedom from want they deserve.
Mary is not some sweet, clueless child who has just been stumbled upon by the Angel. She is a fighter for justice, someone who believes the ancient prophecies about what the Messiah will bring. She's a Rosa Parks or an Aung San Suu Kiyy, who will not back down from what she sees as the right way for the world to work.
By only seeing her youth and her virginity, we fail to see her courage and her willingness to be part of the revolution that God is beginning in her day. Don't forget that girls who were unmarried and pregnant were subject to stoning. She may have been a nobody in the grand scheme of things, but she is one brave and committed young woman. She is the first believer in the new and coming Reign of God that her son will proclaim.
It's no wonder that she has to run to Elizabeth who has also experienced the miracle of a longed-for birth. And seemingly without explanation, Elizabeth shares the joy of Mary's astonishing news. "The Savior is to be born to us, to our family and in our time." The story of the meeting of these two women always makes me smile and well up at the same time. Can you just imagine the joyful shouts and tearful embraces? And the overflowing gratitude of these two believers who have found that God has singled them out for such special favor. Their lives are going to be hard. The dreams that they have become part of will include painful deaths of their sons. Each of these sons will challenge the system and be destroyed by it. But each of them will have been part of changing the world forever for God's people.
This story makes me nervous. The rebel Mary, who envisions a world in which God scatters the proud in the thoughts of their hearts and brings the powerful down from their thrones scares me. The world hasn't changed all that much since Mary sang her song of resistance to the powers of the day and her expectation that her son would finally be the One to change the world into the Kingdom of God. Mary and Joseph did their parts, so did Elizabeth and Zechariah. What about me? What about us? Does this song of Mary challenge us to join up in changing the world?
I thank God that we are not loved because we do what God expects of us. We are loved because God loves and forgives, it is what God is. And at the same time, our hearts are moved by God's love when we see that the world is still hurting. We are summoned to be the people who will carry on the work that Jesus began by bringing in justice and mercy. "Repent!" Said the Baptizer, John. "My Spirit rejoices," said Mary, "for he has looked with favor on me." We are invited into their company – turning our hearts toward God's dreams for a world of peace and plenty in which all can thrive in safety. Will this be the year in which believers trust that God can work in us and bring in such a world? Let us pray in hope that we will be ready to do what it takes to be part of God's Kingdom here on earth.
Now may the peace of God, which passes all understanding, keep your hearts and minds in Christ Jesus our Lord. Amen.