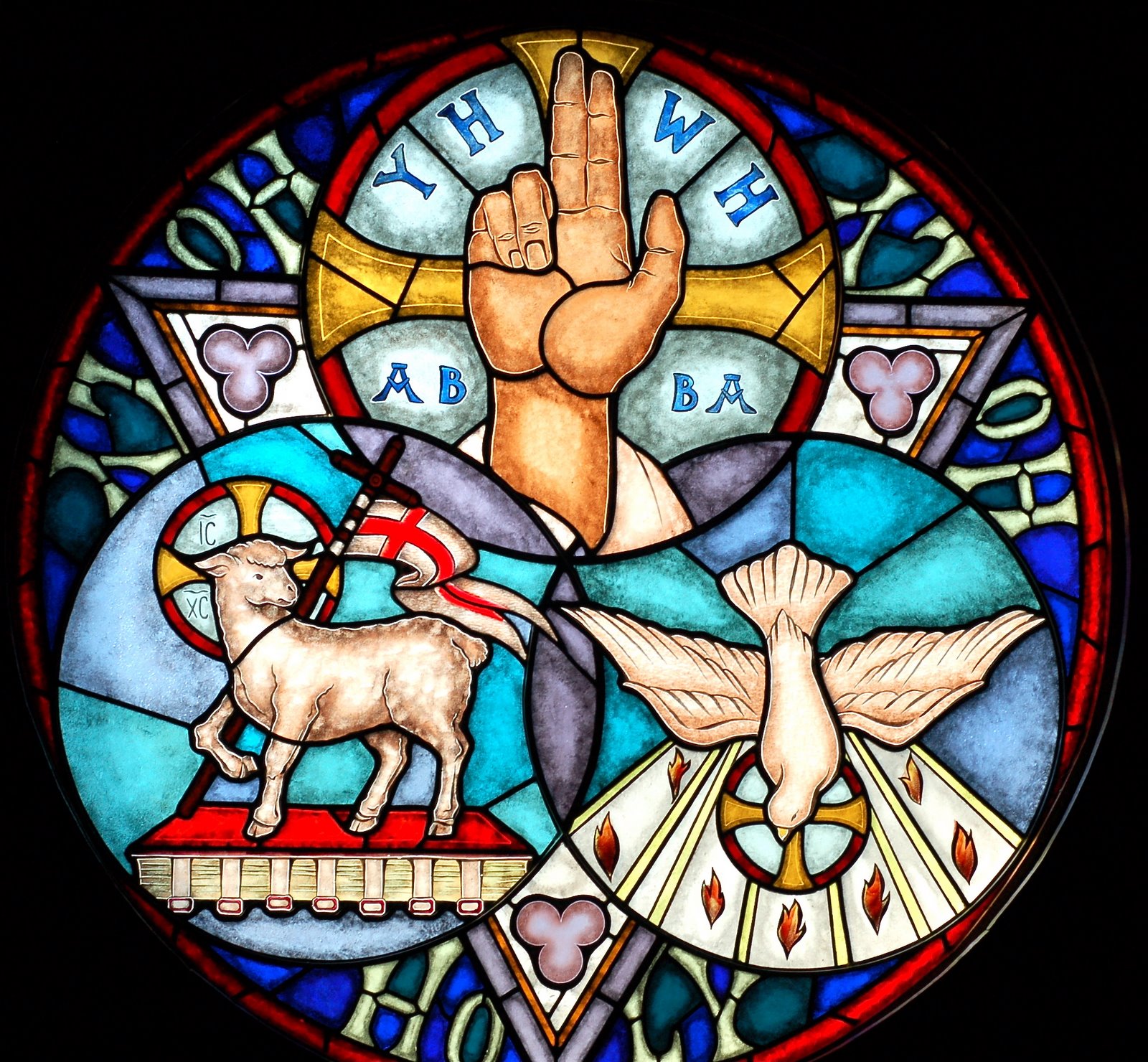 Holy Trinity Sunday
June 15, 2014
Mathew 28: 16-20
A pastor friend of mine posted a picture on his page of a man in a raging wind with his hands over his face in horror and the message said, "Warning!  Sermons explaining the Trinity are on the way!"  Yes, it's that time of the Church Year when intrepid pastoral theologians feel obliged to tackle it.
Once upon a time in the earliest centuries of the Christian tradition, Jesus' nature as human and divine was the hot topic.  Theologians wrestled with it and who was in and who was out of the church changed regularly as ideas came and went.  It was the Cappadocian Fathers, Basil the Great, Gregory of Nyssa, and Gregory of Nanzianus who finally created the breakthrough that led to the Apostles' Creed.  They said, "It's a mystery how Jesus could be both fully human and fully divine, but it's a mystery we accept.  We may not be able to explain how God can be the Father Creator, Son Redeemer, and Spirit Enlightener, but we know from our experience that God comes to us this way.  Rather than fight over how to explain it, let's just proclaim it."  So our Apostles' Creed is our confession, the statement of what we believe is the God in Three Persons.  It's kind of a synopsis of what we know about how God comes to us based on our understanding of the God we meet in Scripture.
The First Article is about God as Creator.  The Second Article is a quick description of Jesus birth, life, death and resurrection.  The Third Article tells us about the work of the Holy Spirit.
Our Bishop likes to explain the "spiritual, but not religious" folks as "First Article Believers."  In creation, they see God's hand crafting a world of wonders, and feel as if they are at worship in the outdoors.  I like that, but if that's "First Article" faith, I wonder, what would "Second Article" faith look like.  If we want to talk about Jesus, and his coming into the world, his life, his ministry, his death and resurrection, and his coming again, where would we worship, how would we honor him?
Well, we'd be gathering in his name to learn more about him, I think.  We be reading about his life and ministry and following in his footsteps, feeding people, healing the sick, working for justice against a system that separates people and resources.  We'd be taking literally Jesus' challenge that when we care for others, we are actually caring for Jesus himself.  We'd begin to see Jesus in each other as we gather in his name, and we'd begin to see him in the people we welcome, and feed and work with to change the world.
And then….what would "Third Article" faith look like?  How would we honor and worship the Holy Spirit, the Spirit of Jesus that is with us in the world today?  Dr. Luther explains that we cannot come to God on our own, but that the Holy Spirit calls us through the Gospel, enlightens us with her gifts, makes us holy, and keeps us in the true faith, as the whole Christian church on earth is called, gathered, enlightened, and kept in the one true faith.  So when we are invited to gather with each other in faith, to pray for and with each other we are experiencing the Spirit of Jesus at work. The Spirit is our conscience, training us in the way God's people live out God's love, with honesty and mercy, pulling us out of our self-centered haze to notice the pain of another, or to share in their experience.  And the Spirit is the power of God's love that grabs us when we are afraid, holds us when we doubt, walks with us when we aren't sure we can really do what we've decided is the right thing.
But the thing of it is, that God is more than all of that, and doesn't fit so neatly into our categories.  God is always at work in us.  We are never alone.  The creator who was there at the beginning and surrounds us with magnificence, is still at work in our hearts and lives making all things new, giving us new energy, new spirit, new heart, new eyes, and new beginnings.  Jesus is always beside us, hearing our doubts and fears, opening the Word to us and reassuring us that no care is too small, nor is any work to big for us to undertake as his hands and heart in the world.  The power of the Spirit is fresh every morning, ready to overcome every evil, every power that works against the peace and joy that are the products of our life with God. The Spirit's power is what raised Jesus from the grave, so that we know beyond question, that even death cannot separate us from the love of God we see in Jesus and in the beauty around us.
So however you come here this morning – because it has been your practice to come and worship all your life, or because you have stumbled back into church after a long absence – we are all here for the same reason.  God has called us out of God's love for us.  We didn't ask for it, we don't deserve it, we can't earn any special consideration by being good, or better than the guy next door.  God calls us by name, walks with us always, recreates us, heals our failures, invites us into community as God's Body.  We are washed in God's love and sent out into the world to live that love.  Whatever name you use, Father, Son, or Holy Spirit, you are loved into life.  What now will you do now with this one wild, precious life God has given you?