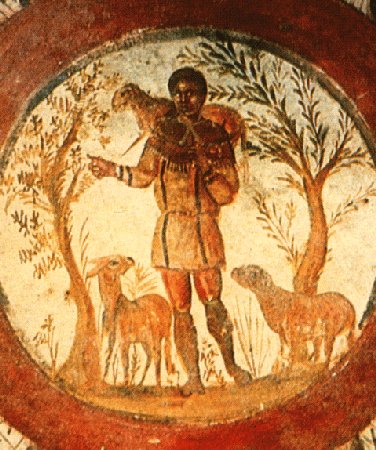 4th Sunday of Easter
May 11, 2014
Psalm 23 and John 10:1-10
The Lord is my Shepherd.  Next to the Lord's Prayer, this is probably the most well-known and beloved piece of Scripture.  Even by Jesus.  He adopts all the imagery and its connotations in the Gospel reading we have before us this morning.  It seems ironic that the Psalm just before it begins, "My God, my God, why have you abandoned me?  Why are your so far from my suffering?"  It is the very Psalm on the lips of Jesus as he is dying on the cross.  It is not irony but the rhythm of faith and hope in the face of overwhelming loss that the Psalms are arranged the way they are, one of grief and fear followed by one of comfort and trust.  It is not surprising that the earliest images of Jesus are of him as the Good Shepherd, cradling a little sheep.
This short reading is ripped from a chapter full of I AM sayings.  I am the Good Shepherd, I am the gate, I am the light of the world.  I AM is the name – or lack of name – that the voice of God gives to Moses as he stands before the burning bush, trying to talk God out of sending him back to Egypt to bring God's people out of the hands of Pharaoh and back to their land of promise.  You can use a name to pin someone down.  When you know their name, you have power to summon them.  The ancient gods had names, but the Hebrew God was living and active.  I AM who I AM.  When Jesus uses I AM in describing himself, the people who heard him also heard the power of the Lord of Hosts, the God of Abraham, Isaac, and Jacob, the God of Moses, standing with them.
And at the same time there is something tender and gentle in the image he gives us.  He calls his own.  They know him, and willingly follow because they trust him.  Newcomers or those with some other agenda need not even try, he says, because the sheep will run from intruders, thieves and bandits.  I hear that in the ancient near east it was customary for the sheep to be herded into an enclosure with a narrow entrance, and that the shepherd himself would sleep in the doorway.  His own body became the gate to keep the sheep safe and to keep predators out.  Jesus tells us that the freedom to come and go in safety is through him.  We know that in Jesus, we see the fullness of God's love for us, God's presence among us, and God's promise of life that is joyful, abundant, and lasts forever.
But I am not a sheep.  I don't need the shepherd's rod to ward off the wolves and bears, or the shepherd's crook to keep me from falling over a cliff.  I don't need theshepherd sleeping at my front door to keep predators from eating me up.  Or do I?
It's the abundant life part that's the big promise in this reading for me.  That's what I need the Good Shepherd to provide for me.  So much of the world I live in wants to rob me of abundant life.  There are a million ways that you can die these days, spiritually, physically, emotionally, and politically. If you really care about the world, every newshour can break your spirit and make you think there's no hope for the world. Even if you are faithful and honest, your heart can be broken.  Sometimes I am amazed at the amount of pain that ordinary people carry around in them.  What can give us life and hope?  What can save us from despair?  The Good Shepherd is not just the one who wields the staff and who is the gate, he is also the one who entered into evil and met it face to face.  His resurrection tells us that life is always possible, and that on the other side of death there is always something new, green, tender and ready for abundance.  What would abundant life look like for you?
Would it mean shedding a burden you have carried way too long by accepting God's forgiveness and love for you?  Would it mean accepting an offer of reconciliation healing an old wound, because you realize that you can't find real love until you let go of your hurt?  Would it mean stepping beyond fear or revenge or anger to follow a longing for something new and joy-filled because you trust that God is inviting you into it?   Take a minute to think about what it would look like for you, and write it down on a corner of your bulletin.  (short silence)
Abundance overflows, it splashes into every dark crack and crevice.  Jesus' mission is to make you see how much God loves you, how much God wants to know you, how much God can lift from your shoulders if you can only trust in that love and forgiveness that he won for you.  And then he gives you the freedom to live out of that overflow into the lives of the people around you.  You become the invitation to new life, you become the gate to freedom, because you are sharing the abundance of life that Jesus won for you.  The power that raised Jesus is the very power of love that moves us to be Jesus in our own world.
In the Easter season, we are invited to see how new life happens, the new life won for us in Jesus life, death, and resurrection.  We've seen Jesus surprise his discouraged disciples with his presence among them.  We, too, are being challenged to see Jesus in places we didn't expect, being invited to open our eyes to how he shows up in our world to keep us safe, to walk with us daily, to bring us freedom and hope in a world of chaos, and to lead us to lead us to abundant life forever.  Amen.
Now may the peace of God which passes all understanding keep your hearts and minds in Christ Jesus our Lord.  Amen.