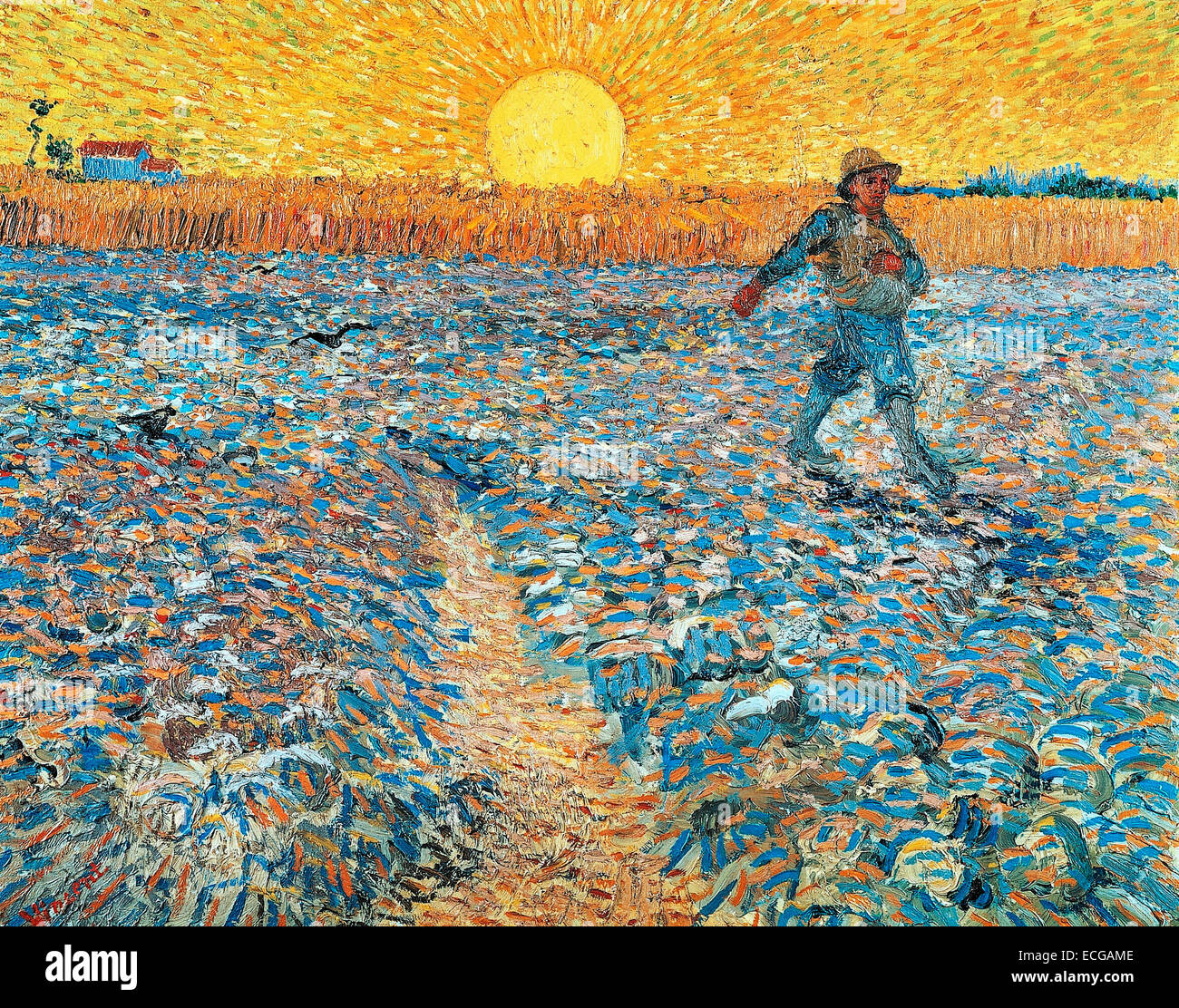 6th Sunday after Pentecost
July 16, 2017
Matthew 13: 1-9, 18-23     You can click on these links to read the text in Oremus Bible Browser.
This is the beginning of a raft of parables in Matthew's Gospel, and a significant change in Jesus' teaching methods.    So I want to take a few minutes to talk about parables in general, and Jesus' use of them.
What is a parable?  How would you define it?  (Take answers from the congregation)
It's a story.  It's a teaching tool.  It uses metaphor. It is not an allegory in which each thing or character is intended to represent something specific.  It is open to interpretation, there is not just one focus or 'right answer.'
It has the same Greek root as parabola, and implies that something is thrown out into space with the expectation of returning.  The other Greek word in it means to put things side by side.  So in a parable two things that are not necessarily alike are put side by side to bring a concept into focus.  They get our attention because two things a parable puts together are so different.  For example, the idea of God as Sower is so unexpected.
This is the first parable that Jesus uses, and it's part of the third of Jesus' 'discourses' in Matthew's Gospel.  At the beginning of this chapter, Jesus sits down to teach; at the end it says, "when Jesus had finished these parables, he moved on from there."  He relies more and more on parables, some long narratives and some just a sentence or two.  As he uses parables more and more, his skills as teacher/storyteller increase.
One more question for you: what do you notice about the parable itself and the explanation of it?
The parable itself focuses on the action of the sower, right?  The seed is scattered on areas where there is almost no chance of the seed having any effect.  The interpretation focuses on the hearers of the word, presumably the seed is the Word of God, not explained specifically in Matthew.
The parable itself proclaims the wasteful generosity of the Sower.  In Jesus' day, times were tough. Seed was expensive.  No one in his right mind would have scattered seed in places where there was no chance of it bearing crops.  In the Sower, we have a picture of prodigal grace, seed sown even in the places that have not the remotest chance of thriving.  But stop.  Seeds have their own destiny and effectiveness, even when they are not sown in prime locations.  Birds eat seeds and poop them in the most unlikely places where they grow!  Seeds sown on rocky ground continue to break down inhospitable territory into soil.  Ask Carrie Gordon how rocks become soil.  This part of the story is not about what hearers do with the Word of the Kingdom, or how they influence its effectiveness.  It is about the generosity of a God who continues to scatter the Word with abandon.  It is about how Jesus is the parable itself, coming in the simplest form among us and offering us a relationship to God based in God's loving invitation, not on any precondition or action of our own.
The interpretation offers us and Matthew's community encouragement to persevere even in circumstances that test our faith.  It enumerates all the ways that those who hear God's word can lose the gift.  It encourages those who cling to faith that there is great reward in a fruitful life.  I don't think we need to pick a side of the story.  I think we need to hear both sides to find our place in God's story.
Everything we hear – in advertising, in social commentary, in political speech, wants to tell us what we lack, and what we should fear.  The roots of most of the things that feed our anxieties and discourage us from thinking our world could ever be a safe place come from the sense that we are not enough: not rich enough, not smart or imaginative enough, not careful enough, not loving enough, not dedicated enough to helping others thrive.  We come to believe that it's us that is not enough.
We need to hear of the wasteful, carefree Sower, who is out there scattering seed everywhere, not worried about the return, just spreading love and mercy and grace everywhere, in hopes that every kind of soil will bear something.  God does not expect that we can be part of God's kingdom by ourselves, but God surely believes that we are worth to love and mercy and dignity that comes with God's invitation to a live of love.  The message of the Sower is that we are already enough, and that God wants us to thrive in a life built on love offered to us through Jesus.  Our lives can be rich in love.  We can trust that we are exactly who God wants us to be, just by being ourselves.  We can spread the love we've received to our neighbors and friends.  Because we believe that we are enough and that we are agents of God's love, we can stand against the systems and powers that drive fear and destroy community.  God will never give up on us, throwing grace into our hearts, stony or not.  We are enough.  If you have ears to hear, hear this!