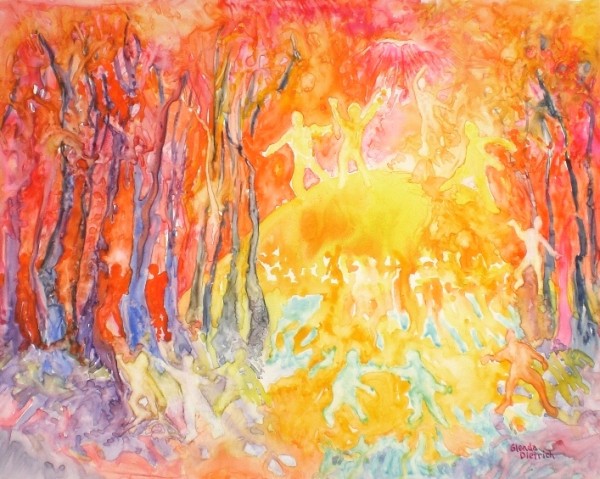 Day of Pentecost
May 15, 2016
John 14: 8-27    You can click on this link to read the text in Oremus Bible Browser
At a time in my life when everything I worked hard for was mine, and yet my life was falling apart, I sat in meditation on Scripture every day, and got nothing. Nothing. It felt as if God's plans for me were mocking me. "You put me on this path, and now you are hiding yourself and your encouragement. How can you leave me alone?" That was my prayer for days. And then one morning, I said please come be with me to tell me good news for today, not just how things will all work out in the future. And I felt as if I were sitting on a Grandma's lap, being rocked and held in loving arms. All of a sudden the prayer chair, which had been the source of pain became a place to sit in peace every morning. The Holy Spirit Grandma rocked me and told me that it was OK to let go of my worry, to let go of my fear and anxiety and to rest for awhile in quiet, like a bare tree in winter, secure in the understanding that I would be ready when it was time for the new.
"I will ask the Father, and he will give you another Advocate, to be with you forever." Advocate is from the Greek verb parakaleo, to walk along side. As if it is Jesus and the Father are beside you always, holding your hand when you need it, watching you stride out in confidence when you can.   The Spirit of Truth, Jesus calls it, because that Spirit will always remind you that you are God's Beloved, and wake you up when your heart turns away from the Way of Jesus into self-centered and unloving behavior. "I will not leave you orphaned," Jesus has told them.
Now he wants these anxious and fearful friends to know that by following his Way of love for God and love for neighbor, they will be different than the rest of the world, but that they will never be alone. They will have each other and the Spirit to keep them centered and cared for.
Part of Jesus' promise is that those who stay in his Word and his Way will do the kinds of works that Jesus himself did. He promises that they will do even greater works. No one but Jesus would dare to say that his followers could do greater things than he did. No way, you say. I hear you. But think about it.
Jesus lived in a tiny country for a tiny slice of time, affecting the lives of maybe a few thousand people, tops. His disciples went out, full of the Fire of that Spirit that Jesus sent to them, preaching to the crowds gathered on that Holy Day, and taking the message to the known world. They preached, they healed, they raised the dead. They created new communities where others preached and healed and raised the dead. All the way down to our day when we preach about our faith by our works and words, where we listen and pray each other into health, where we raise new life in and among each other.
Jesus' Spirit is not only a deep personal presence for each one of us, Jesus' Spirit of Truth also speaks in our communities to witness to injustice, to work for peace and healing, and to drag us Christians along whether we like it or not. It is the Spirit of Jesus that creates the manifestations of disaster relief, hospitals, childcare, and education that are based in faith communities. If you look at the scale of things, Jesus is right, we take that Spirit that walks with us to accomplish much in the world.
So the Spirit that Jesus bequeaths his followers in his farewell to them, the Spirit that fills the room with wind and fire after he's gone, is the same Spirit that we celebrate here to day in our red surroundings. That Spirit lives with us in this world, often at work beyond what we see. Sometimes we are not even aware of how the Spirit is at work in our world until the results fall in our laps, people fed, sheltered, new breakthroughs in medicine and new compassion in care for the sick and elderly, new understandings of physics and chemistry that unlock worlds we never imaged. How could any of that be anything other than the Spirit of our Creator and Redeemer at work in our world through the Spirit's urging and prompting?
"Peace I leave with you, MY peace I give to you. Not as the world gives. Do not let your heart be troubled, and do not let them be afraid," Jesus says to those believers who are so obviously scared to death. "Rest easy, my Spirit walks with you so that you can do the things that I have not been able to do," says Jesus.
So on this day when we celebrate the beginning of the Age of the Spirit, let me urge you to be at peace. You have much to do as God's people, the followers of Jesus, to preach, to heal, to raise the dead. But you never work alone. We have each other as Beloved Community gathered by the Spirit, and we have the Spirit of Jesus that walks with us day in and day out. "If in my name you ask me for anything, I will do it." May the Spirit of Peace inform your prayers and your work, that when you meet Jesus face to face, he'll help you see the greater works you have done with the Spirit at your side. Amen.