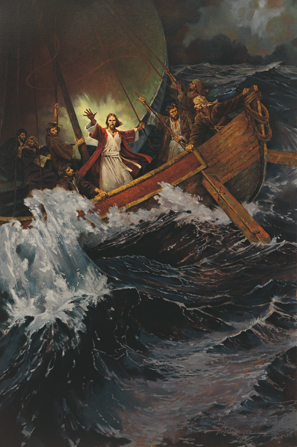 4th Sunday after Pentecost
June 21, 2015
Mark 4: 35-41  You can click on this link to read the text in Oremus Bible Browser.
My Facebook this week had a story of a woman who is the Episcopal chaplain at Hartsfield-Jackson International Airport in Atlanta, the Rev. Dr. Donna Mote. There's a picture of her standing in her cassock looking out over the people passing below, and in the voice-over she says, especially talking about her encounters with military in her daily work, that she provides a safe space for people to talk about the things that they can never un-see. All of a sudden, my eyes welled up. Not to disrespect the experience of anyone else whose life has been filled with pain, this has been another week when I wish I could un-see a whole bunch of things. The shooting in Charleston SC, the torching of my favorite Christian church in the Galilee, have me shaking my head and wondering how such things could happen.
These stories don't really have anything to do with me, one on the other side of the country, one on the other side of the world. But they do, they break my heart. The good news of the Gospel tells me that God loves even the sparrows, must God not be grieving for the pain of the families who suffer such loss, and must God not be grieving for people who's hearts are so filled with hatred that they can be so cold-blooded.
In talking about this morning's Gospel story I was going to lead you in a small guided meditation, taking you on a trip back into the scariest time in your life and asking you to imaging Jesus there with you, calming the storm and walking with you. But I can't just focus on the personal and individual comfort any more, the pain of the world has intruded too powerfully for that. Instead I see in this story, the disciples heading out with Jesus, kind of on the spur of the moment. "Just as he was," says the Evangelist. He has a destination in mind, in the country of the Gerasenes, for a crazy man who needs healing to be able to rejoin his family and his community. If they'd known, they would have thought that Jesus was nuts himself to go so far and get involved in the mess that would ensue.
What occurs to me in this story is the danger of crossing over, the danger of change from one side of the sea to another. Look at what can happen, even with Jesus in the boat. I find myself feeling that we also live in dangerous times, times of such enormous change that we so polarized, split, divided, politically and theologically, we hardly even know how to talk to each other. You are not going to convince me or change my mind about my political or theological understandings by disrespecting me or my experience. I not going to understand you either, unless I can get to know your history, your experience, your longing.   But what I know for certain is that God made you, that God loves you, and that your flaws and your strengths are given to you by God for the growth of your community as an instrument of God's love for all people. We owe each other the respect and care that come from seeing with God's eyes of love.
Anything that hurts you, hurts me. Anything that disrespects someone for their color or their poverty is a blow to the love God has for humanity, and it takes away my dignity, too. Anything that helps someone or lifts up someone who has been shamed, lifts me too, because I am part of the humanity that Jesus suffered and died for. I don't have to see the world the same way you do to respect you, or to see you as someone beloved. And you owe me the same. Maybe my sins are greater than yours, but you are not without sin, too, and we all come to God for the same forgiveness. When the Apostle Paul says that Jesus humbled himself, he is saying that he lived with us, and suffered the worst indignities and injustices that our cruel world has to offer. And he forgave it all, my sins of thoughtlessness and arrogance, and yours. When we forget how privileged we are, we are slapping those less privileged in the face.
In a world that is changing so rapidly, we want security more than ever. We want the safe places we remember that made us feel smart and connected and important. We believe that we can find God there in the places in the past, back on the shoreline where Jesus was teaching and it was all so clear to us. But maybe we're already in the boat with Jesus, crossing over into something unfamiliar and scary for all of us. We are all grasping for Jesus to wake up and reassure us that we will not die in the middle of our journey from what we understand to what we can only imagine. We all want the to be sure that God's goodness still overcomes all the evil we see.  And Jesus asks us the same question, "Why are you afraid? Have you no faith?" The disciples were even more terrified when they realized that they were indeed traveling with the One who could still the storm. As I read this story and look at the world around me, I am filled with questions. How am I, how are we, being asked to cross over dangerous territory with Jesus? Is there a way that my comfort has allowed some of the hateful things in the world to happen? Will seeing others as beloved of God change anything in my behavior and my understanding? In what way do I need to change how I think about the failings of others and my own failings? If I can't love the people who have suffered at the hands of haters so far away, who is nearby that needs my love?
Dear Jesus, please comfort those who suffer from evil, both the victims and the perpetrators. Send your peace on our dangerous crossing and remind us that your call to service is one of humility and love, as you have shown us. Amen.