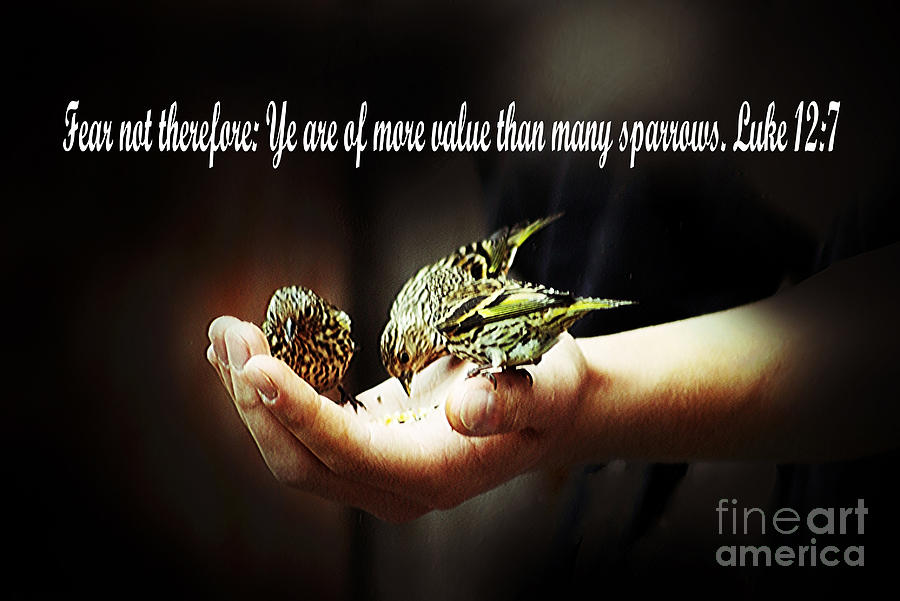 2nd Sunday after Pentecost
June 22, 2014
Matthew 10: 24-39
The very fact that this reading sounds like Jesus is ranting should be a comfort to us.  Maybe you are thinking that it's hard to find "Good News of the Gospel" in this reading.  That's because you have never lived in a place where being a Christian sets you at odds with the prevailing religious and social order of your time.  We are so blessed to be free to worship as we wish, and to share our faith with the assurance that we cannot be isolated, jailed, tortured or killed for what we believe, or for claiming Jesus as our Savior.  If we lived in other places – Syria, the Central African Republic, parts Latin America, parts of Eastern Europe, we might indeed lose our family or lose our life for the choices of faith that we make.  If we lived with that kind of oppression, Jesus' words would sound a lot different.  They would be good news to us.
Jesus himself has just been called "Beelzebul," a devil, by the religious leaders, and as he gets ready to send out his disciples on a mission trip, he wants them to know for certain that they will experience the same kind of treatment that he is experiencing.  "So have no fear," he says.  It will all come out in the wash, he tells them, right will prevail in the end.  Don't let fear lead you to deny what you know is true.  The good news is that even if you lose your life, God holds you in loving hands.
I have been so blessed to meet people who live on God's promises.  In Latin America, and again in Palestine, people who could easy be in despair because they struggle for justice and dignity against poverty and political oppression, live their faith with a depth that is inspiring.  They rely on these very promises in a way that I have never had to.  They live beyond fear because they trust that God is with them, that what is right will prevail. They trust that the power that raised Jesus from death is still at work to make all things new, and that they are at the forefront of the world that God is bringing into being.
Maybe you have met people like that, too; people whose faith is like a flame, and lightens the world around them.  They trust that whatever happens, God is still at work to bring about Good News.  They live beyond fear, instead trusting God's promises.  People think that the opposite of faith is doubt, but I don't think so.  I think that the opposite of faith is fear.  Fear can drive us away from all we know to be true.  Fear can keep us from realizing our dreams, stepping into the future we long for, scare us away from the life God created us for.  Those people whose faith inspires us seem to find God's promises and God's presence in the very trials that oppress and frighten them.
Scientists tell us that fear and excitement cause the same physiological reactions.  You can see it on the playing field; one team rallies in the face of disaster and goes for the goal, another tightens up, and can't get anything right.  So it is in our own lives.  We can think of so many things that rattle us, that make us fearful, that make us want to hunker down and find a safe place.  What is it that scares you?  Big or little, take a minute to write down on your bulletin the fears that are dogging you these days.  Pick a couple and just write them.  We'll give you a few minutes.
Now, underneath your fears, write Jesus' promise that even sparrows rest in God's hands, and that your heavenly Father knows everything about you and what you need.
Every time and angel comes to someone it says, "Do not be afraid."  That's because the angel is the bearer of God's good news.  Jesus does the same.  He came in person into our world to show us that God wants to know us.  He suffered at the hands of humanity to show us that God loves us so much that even violence and brutality would not keep him from coming to be with us.  And he rose from the grave to show us that even death cannot separate us from God's love.  Every promise ever made to us was proven to be possible by Jesus' resurrection.  We are loved and blessed to live with joy, even in the face of all the world can throw at us.  We have nothing to fear.  Amen.
Now may the peace of God, which passes all understanding, keep your hearts and minds in Christ Jesus, our Lord.  Amen.