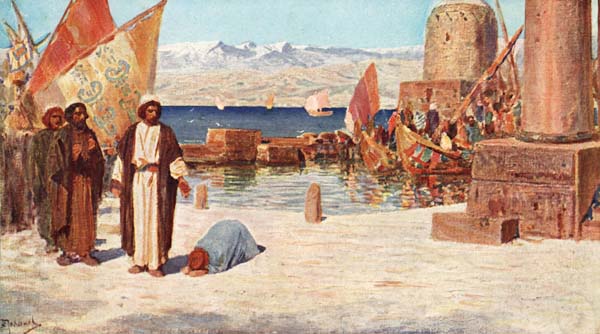 10th Sunday after Pentecost
August 17, 2014
Matthew 15: [10-20] 21-28
So here's the question:  does Jesus learn about his ministry as he meets new situations?
We meet Jesus today after a run-in with the strict Jewish sect, the Pharisees.  The confrontation has been about clean versus unclean.  This is not anything very new, just another round and a deeper antipathy between them.  And then Jesus is off to the coast, Canaanite territory.  His confrontation with this woman is fascinating and filled with questions.  She is so insistent that he heal her daughter, tormented, she says, by a demon.  How does she know who Jesus is?  Has his reputation traveled even into pagan territory?  She calls him "Son of David," a title that implies royalty.  This is a title that Jesus' own people would not concede for him.  We see already that she has trust in what she's heard about him.
Our sweet, compassionate Jesus ignores her.  This is the man who put aside his own grief and fear to heal and teach a crowd and feed them.  What?  His disciples are embarrassed, and want him to send her away.  So he tells her that his gift of healing is only for his own people – the lost sheep of the house of Israel.
This mother is not about to be dissuaded.  She comes and kneels before him; you only kneel before royalty.  You can almost see her throw herself at Jesus' feet, pleading for help.  But he is firm.  "It is not fair to take the children's food and throw it to the dogs."  She is undeterred.  "Yet even the dogs eat the crumbs from their master's table." Jesus is astonished.  After all the arguments and harassment of the people who should be the most welcoming of his ministry in his own country, this foreigner is willing to take the leftovers with complete trust that it will be enough to save her child.  He grants the healing for which she begs, the reward for a trust that is hard to find.
Matthew contrasts this woman's great faith to Peter's little faith in the story we read last week.  What we see here is that great faith is not about following the rules, or about agreeing to the proper understanding of Scripture.  It is about throwing yourself on God's mercy and trusting in God's saving love.  Matthew is also laying out the 'clean versus unclean' debate in a new light.  Everything about this woman is "unclean."  She is a foreigner, a pagan, and kind of crazy, yet she totally trusts in God's saving grace for herself and her child.  The Pharisees, on the other hand, would love to claim the position of "clean."  But they are petty, judgmental, and parsimonious with God's love.  Matthew, always showing us what real righteousness looks like, holds up this woman as a prime example of confidence before God by trusting in God's love and power.
So does this story tell us that Jesus learns that his message is for all people, not just for his own?  Or is this a story of Jesus putting this woman to the test to see how really strong her faith is?
I know a lot of people want to come down on the side of Jesus' testing this woman to show her faith, and to ultimately reward it.  That is the traditional way of understanding this story.  However, if Jesus is learning the full extent of God's work in the world as he walks on this foreign shore, perhaps we can also understand that Jesus' work in our world is still opening to the new circumstances of our lives.  Jesus' love and understanding are not just limited to what happened back in the day that the Evangelists write about.
I'd like to believe that Jesus is present with those Yazidis stranded on Mount Sinjar, giving them the power to face the evil that surrounds them by those who call their evil work God's will.  I would like to believe that Jesus was present with someone like Robin Williams, who couldn't face his deep despair any longer.  I would like to believe that Jesus is present with women who are raped as trophies of war, young men who die needlessly, and children who grow up in refugee camps.  When Jesus died on the cross, he faced the deepest evil humanity can dish out, showing us that God knows our deepest pain and suffering, and was willing to join us there.  And when Easter came, Jesus' resurrection tells us that God holds the power of life and hope for all who suffer.  We are always held in God's love.
If Jesus can learn, then he knows our pain, and our joy.  If we can throw our sorrows and hopes on him, we can trust that he can hear our pleas for ourselves and for those we love.  If Jesus can learn, then he is not just the Savior of Israel, but the Savior of the whole world, even our crazy, chaotic world.  If Jesus can learn, then he knows my deepest need, and can meet me there with healing and hope.  Amen.
Now may the peace of God which passes all understanding, keep your hearts and minds in Christ Jesus, our Lord.  Amen.